Ahmad Greene-Hayes
Assistant Professor of African American Studies and Religious Studies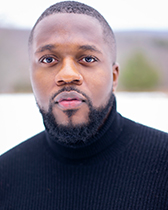 1860 Campus Drive, Crowe Hall, Room 5-113
Dr. Ahmad Greene-Hayes is a College Fellow and Assistant Professor of African American Studies with a courtesy appointment in the Department of Religious Studies at Northwestern University, beginning July 1st. He earned his Ph.D. in Religion from Princeton University and he also earned certificates in African American Studies and Gender and Sexuality Studies.
Dr. Greene-Hayes is currently working on a book manuscript entitled, Gods of the Flesh: Black Atlantic Religion-Making in Jim Crow New Orleans, which is under advance contract with the University of Chicago Press in the Class 200: New Studies in Religion series. The book examines the Black Atlantic religious cultures and sexual politics that emerged in New Orleans—a vibrant, American port city—amidst Jim Crow policing and the migration of African Americans, West Indians, and Central Americans to the region in the early twentieth century. It also tracks intraracial and intercultural conflicts among Black religious practitioners within "the Negro church" and between "Negro cults and sects." Relatedly, the book also considers the world of policing encircling Black people during the era of Jim Crow, a period in which "policing" included the jail cell and the state-sanctioned court of the lynch mob, and it centers on how Black people countered them through new and rescripted Black Atlantic religious, political, and sexual cultures.
Dr. Greene-Hayes is the past recipient of numerous fellowships and awards from the Ford Foundation, the American Academy of Religion, the Mellon Mays Foundation, the Political Theology Network, the Social Science Research Council, and many more. During the 2017-2018 academic year, he held the prestigious LGBT Studies Research Fellowship at Yale University, and in 2020, he was awarded the American Society of Church History Research Fellowship. Dr. Greene-Hayes' research has been published in The Black Scholar, Souls: A Critical Journal of Black Politics, Culture and Society, The Journal of African American History, and he has forthcoming articles in GLQ: A Journal of Gay and Lesbian Studies and the Journal of Africana Religions. Dr. Greene-Hayes' other writing and public commentary on issues of race, gender, sexuality, politics, and religion have also appeared in Essence, Ebony, The Immanent Frame, and Black Perspectives: a blog of the African American Intellectual History Society, among many other platforms.
Dr. Greene-Hayes is a steering committee member for both the Afro-American Religious History Unit and the Religion and Sexuality Unit at the American Academy of Religion, and he is also an advisory board member for the LGBTQ Religious Archives Network. In conversation with his research, Dr. Greene-Hayes has consulted and collaborated with the Center on African American Religion, Sexual Politics and Social Justice at Columbia University, the African American Policy Forum, Black Women's Blueprint, and a host of other nonprofit organizations, churches, and other community institutions.
In addition, Dr. Greene-Hayes is at work on a second book project which is a survey of the history of sex, sexualities, and sexual ethics in Black Atlantic religions from the era of enslavement to the emergence of sexually transgressive practices in early twentieth century new religious movements. With the contested religions of Black people in central view by way of a rigorous process of archival theorization, Dr. Greene-Hayes' research agenda in the field of Black Studies and Religious Studies ultimately posits that Black people contrive and plot sacred geographical maps for racial, sexual, and religious meaning and often in refusal to overarching systems of domination. For more about his work, please visit www.ahmadgreene.com.
Back to top