Elizabeth Shakman Hurd
Professor of Religious Studies and Political Science, Chair of the Department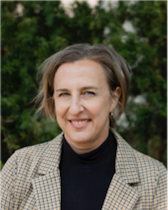 847-467-5412
Crowe Hall, 4-143, 1860 Campus Drive
Elizabeth Shakman Hurd is Professor and Chair of Religious Studies and Professor of Political Science. She studies the politics of religion in U.S. foreign and immigration policy, the global politics of secularism and religious freedom, religion and American borders, the United States in the Middle East, and the intersections of political theory and political theology. She co-directs the transdisplinary Global Religion & Politics Research Group, is a core faculty member in the MENA Studies program, and a member of the French Interdisciplinary Group's Sciences Po Partnership Advisory Committee. She regularly writes and speaks for public audiences.
Her major publications include:
Professor Hurd teaches graduate and undergraduate courses on religion, race, and global politics; law and religion; American borders; the politics of religious diversity; and the United States in the Middle East. She advises graduate students interested in these topics as well as other topics related to her interests in international political theory, political ethnography, methods in the study of religion and politics, and the politics of the Middle East.
Information for prospective graduate students is here.
Hurd co-curates, with Winnifred Sullivan, the Teaching Law and Religion Case Study Archive which can be downloaded free of charge and offers legal cases and background materials for teaching on the intersections of law, religion, and politics around the world. It is suitable for instructors in religious studies, political science, anthropology, sociology, international relations, and legal studies. 
Hurd was awarded a 2018 Daniel I. Linzer Grant for Faculty Innovation in Diversity and Equity and a 2014 Hewlett Fellowship to develop her course "Politics of Religious Diversity." She was awarded the R. Barry Farrell Award for Excellence in Undergraduate Teaching in Political Science in 2006-07 and was voted to the Faculty Honor Roll in 2002-03 and 2006-07.