First-Year Focus
Alumna Adina Goldman had a path that led her from pre-med to English literature and biological anthropology and then to religious studies and music.

Welcome First Years and Prospective Students!
Thanks for checking out our web site. You might be wondering why studying religion is important and what significance it has to your university education. Stephen Prothero, chair of the Religion department at Boston University and repeated guest on The Daily Show with Jon Stewart, argues that "religious literacy" is useful in all areas of political and social life and that Religious Studies should therefore be regarded as essential both to a well-rounded education and to an informed citizenry.
Click here to see Dr. Prothero talking on The Daily Show about "What Every American Should Know About Religion – And Doesn't."
Majoring In Religious Studies Prepares You for Some of the Best Jobs Out There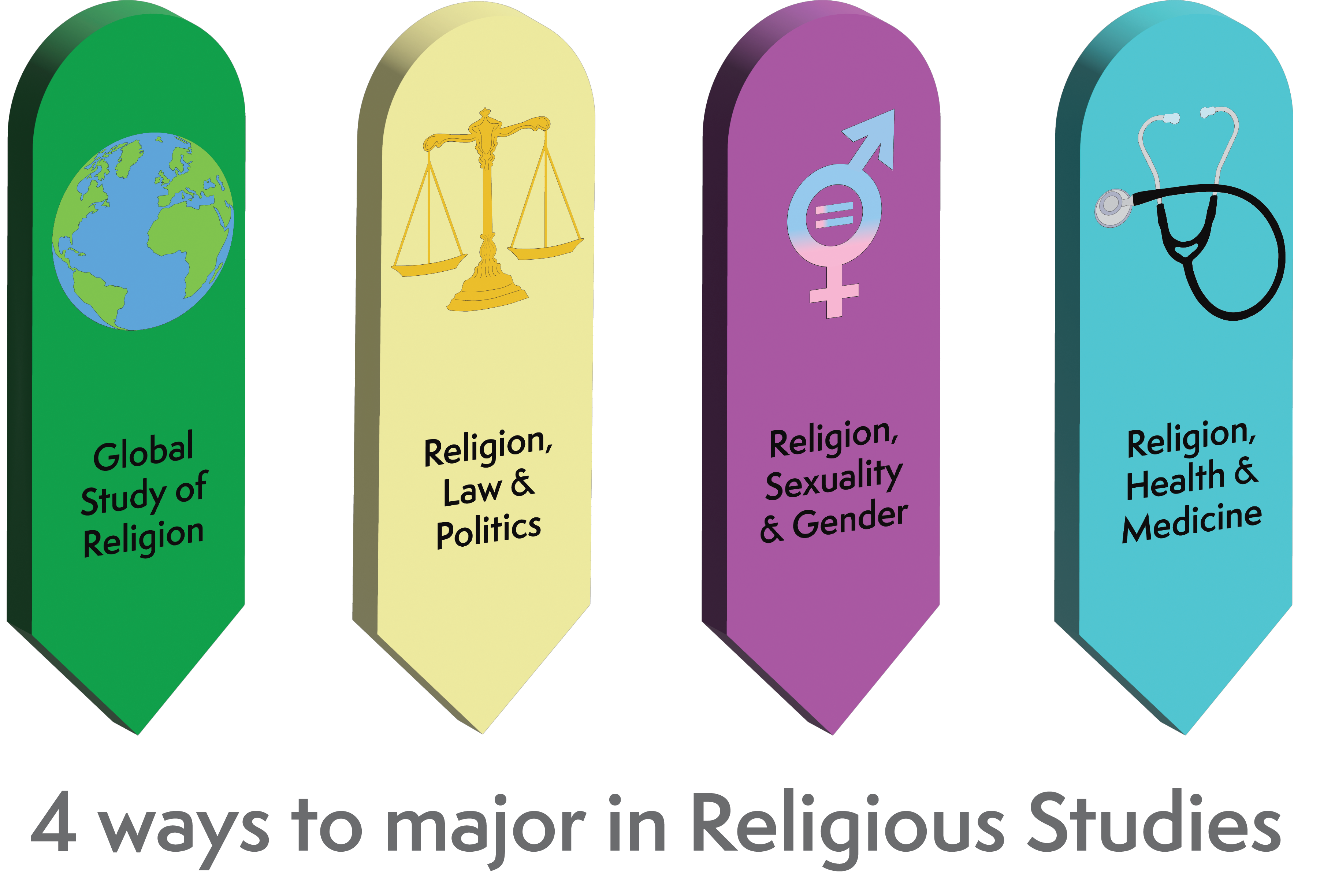 The undergraduate major in Religious Studies offers a choice between a general Religious Studies degree -- Global Study of Religion (GSR) and one of three focused interdisciplinary concentrations. Go to our Interdisciplinary Concentrations to find out more.
More reasons to study religion?
Will Deming, in his introductory book on the study of religion, writes: "According to recent estimates, as much as 85 percent of the world's population are adherents of a religious tradition. This means that the overwhelming majority of people in the world are, to some extent, motivated by specifically religious concerns. Thus the study of religion can provide insight into the hearts, minds, and activities of most of humanity. To the degree that we assign importance to learning foreign languages and understanding other cultures or value the insights of anthropology, sociology, political science, and psychology, the study of religion, too, should be our concern." (Will Deming, Rethinking Religion: A Concise Introduction)
Go to: www.studyreligion.org to learn more about the exciting field of Religious Studies and its growing importance to understanding our rapidly changing world.
Want to learn more about studying religion at Northwestern? Please consult our main menu Undergraduate link to find information and frequently asked questions about majoring and minoring in Religious Studies.
Where do I begin?
To declare a major or minor in religious studies, you will need to download a Declaration of Major or Declaration of Minor form, fill it out, and email it to relst-dus@northwestern.edu. Click here for more information. 
If you're still unsure, read more from Religious Studies alumni at Northwestern. 
Each term we hold open a certain percentage of spots just for first-year students so that you won't have to worry about your registration time or not being "senior" enough to get into one of the required courses.
Our introductory courses include:
Religion 170 Introduction to the Study of Religion
Religion 172 Religion, Media, & Culture
Religion 173 Religion and Human Suffering in the West
Religion 200 Introduction to Hinduism
Religion 210 Introduction to Buddhism
Religion 220 Introduction to the Hebrew Bible
Religion 221 Introduction to the New Testament
Religion 230 Introduction to Judaism
Religion 240 Introduction to Christianity
Religion 250 Introduction to Islam
Religion 260 Introduction to Native American Religions
Religion 264

American Religious History from 1865 to the Great Depression

Religion 265

American Religious History from World War II to the Present

Religion 270 Introduction to Theology
Have any questions about these courses or simply want to set up a time to chat? Contact our Director of Undergraduate Studies, Professor Ashley King, at ashley.king@northwestern.edu. 

For more information of what we offer currently and next year see our 2023-24 Course Schedule.
What are some of the transferable skills I will learn as a Religious Studies major?
*Written and Oral Communication
Critical Thinking and Analytical Reasoning
Problem Solving
Researching
Debating and Contextualizing Different Standpoints
Formulating and Defending Arguments
Articulating Difficult and Abstract Concepts
*Did you know that in a survey of over 300 businesses, 89% of employers say that they want those they employ to possess better oral and written communication skills, and that employers ranked these skills higher than any other skill, knowledge, or ability?
Our majors leave Northwestern with a proficient knowledge of and insight into religion in its diverse expressions around the world. Our majors also gain a heightened understanding for how time, translation, cultural context, and personal situation can shape and reshape the meanings and messages of religious symbols, texts, and practices. In studying these and related phenomena, majors engage theoretical questions of just what constitutes religion, why, and for whom; and they consider why religion has been and continues to be such a powerful force in our world.
*For more information, please see Career Paths and read more about our Alumni.