Eda Uca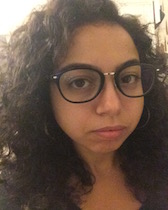 Eda is a doctoral candidate in the department of Religious Studies concentrating in American Religious History, with secondary concentrations in religion and media and digital humanities. Eda's dissertation, "Reading the Bible with QAnon," (Robert Orsi, chair) complicates the boundaries between "religion," "conspiracism," and "Orientalism." Eda's research has been supported through Northwestern University's Mellon Cluster Fellowship for Promising Research in Comparative Race and Diaspora studies and through a graduate assistantship with the Holocaust Educational Foundation of Northwestern University. 
Eda was recognized in the ASG Faculty & Administrator Honor Roll for excellence in undergraduate teaching for her digital humanities course, Religion in the Digital Age (REL 369/HUM 325). This course also participated in the Kaplan Humanities Institute's 2021-2022 campus-wide dialogue on "care and its possibilities." Eda has presented on queer and feminist pedagogy, classroom diversity, equity, and inclusion (DEI), and publicly engaged outward-facing learning assessments at the Popular Culture Association and Humanities Podcasting Network Symposium. She currently offers training and support to first-time teaching assistants as the department's Senior TA. She has also developed student mentorship programming as a member of the department's Graduate Advisory Board. Her distinguished record of service to undergraduate learning and mentorship was recognized by the department of Religious Studies with the George Bond Graduate Award for excellence in undergraduate teaching. 
Prior to her studies at Northwestern, Eda facilitated experiential and service learning opportunities for college students, founded a faith-based third wave feminist (distance learning) people's seminary, and earned an MDiv and STM at Yale Divinity School in New Haven, CT. Her STM thesis, "What is Islam? Reading Noble Drew Ali's Islamic American Imaginaire" earned honors distinction.